Technical data
| | |
| --- | --- |
| Length overall: |   8.28m |
| LWL: |   6,30m |
| Breadth overall: |   2.18m |
| Draught: |   1.30m |
| Displacement |   1.45to |
| Mainsail | 14.80m2 |
| Jib: | 10.20m2 |
| Spinnaker: | 36.00m2 |
| Designer: | Hans Groop |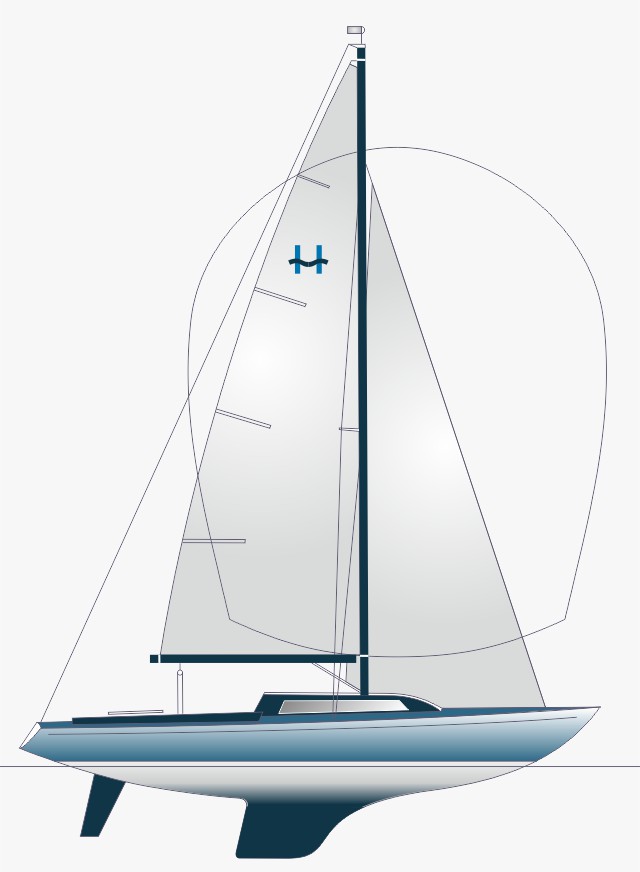 H-Boat sail plan
Production
We produce each H-Boat individually for the customer. Here, we make every effort to ensure that your needs are taken into account, insofar as this is permitted by the class rules. For example, you can freely select the colours you require for the double boot-top, or opt for an additional decorative stripe on the hull. We will also be happy to include special hardware requirements. All this means that O.L. will deliver an H-Boat individually designed for you.
Hull
The hull is hand-laid and made of glass-fibre reinforced polyester, according to the H-BOAT class rules and the ISAF. Places in the hull are reinforced where hardware is mounted, or where it is put under additional stress for other reasons. The hull is white, with a double boot-top in blue as a standard, though also available in any colour of your choice. Other colour and stripe variations are also possible. Only high-quality isophtalic acid resins and gel coats are used, which guarantee top quality and the best possible protection from osmosis in the underwater hull.
Keel and rudder
The keel is made of cast iron and is bolted to the hull with 16mm stainless steel bolts. The entire keel is covered with a GRP shell. The transfer between the hull and the keel is laminated over. A pad eye is mounted on the keel for the winch cable. The rudder is made of GRP with a stainless steel rudder shaft.
Measurement certificate
The ISAF measurement certificate and the measuring plaque are delivered as a standard.