IOI sailing
Sailing characteristics
Thanks to her modern 7/8 rig, it is a real joy to manoeuvre the Aphrodite 101 on the water. The tackle can already be optimally trimmed, regardless of whether the wind is low or high, and all halyards and tack lines can be accessed from the cockpit. It is precisely here in the hardware that the great sailing experience provided by Ott Yacht GmbH, combined with the signature of Danish designer Jan Kjaerulff, comes to the fore.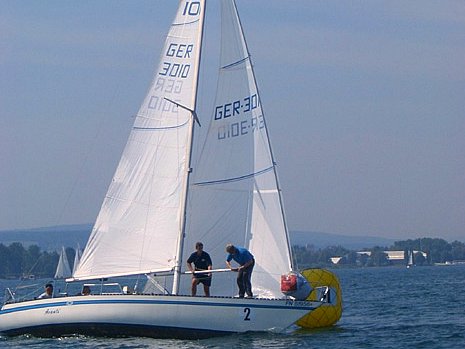 at the buoy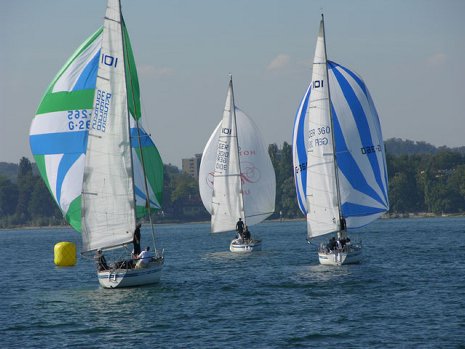 with spinnaker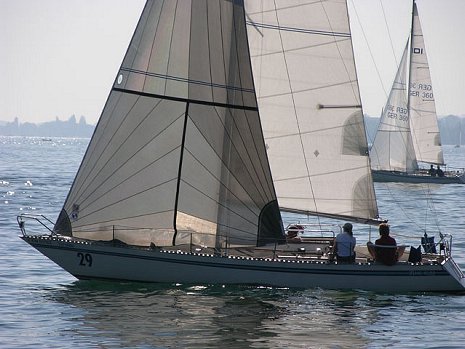 150% genoa
Sails
With around 43 m² of sail area on the wind, as well as its 30m² genoa and 80 m² class spinnaker, the best suit of sails is guaranteed for all weather conditions. In a high wind, the Aphrodite 101 is particularly easy to handle, thanks to her 19 m² self-tacking jib, which automatically transfers from one bow to the other with each turn.
Practical experience
Peter Schweer, who has tested boats for Yacht magazine for many years, wrote:
The Aphrodite 101 is above all a pure-breed sailing yacht, and is not a floating caravan. If you are satisfied with the level of comfort below deck and in the cockpit, you can even take the boat on longer North or Baltic Sea tours, and have a great sailing experience, even in stormy weather. After all, it is not just regatta sailors who like uncomplicated, yet sporty sailing. Berthing or casting off under sail, or crossing a narrow waterway without any problem is pure sailing enjoyment.